I found this out a couple weeks ago, and I am still kind of freaking out about it. If you haven't heard about this phenomena yet, prepare to be mind-blown.
http://www.strangerdimensions.com/2015/0...worldline/
Quote:Now, if you don't know about The Berenstein Bears, they were a series of children's books, and eventually a cartoon, created by Stan and Jan Berenstein. They focused on a family of bears, and did the usual educational children's book/tv series thing. Simple enough. I remember them, vaguely, and I believe I owned a book or two when I was a kid. It's been a while.

So what's the problem?

They're not The Berenstein Bears. They've never been The Berenstein Bears. Despite the fact that many others remember them as The Berenstein Bears, and I myself still pronounce their name as The Berenstein Bears, this is false. This is wrong.

They are

The Berenstain Bears.
http://woodbetweenworlds.blogspot.com/20...ng-in.html
Quote:Here's the thing.  These books play such a huge role in the collective memories of so many people, all of whom clearly and distinctly remember "BerenstEin", that I am not the first to propose the notion that somehow, at some time in the last 10 years or so, reality has been tampered with and history has been retroactively changed.  The bears really were called the "BerenstEin Bears" when we were growing up, but now reality has been altered such that the name of the bears has been changed post hoc.

In 1992 they were "stEin" in 1992, but in 2012 they were "stAin" in 1992.

I would like to make a modest proposal: We are all living in our own parallel universe.

There is at least one other universe parallel to our own.  I will distinguish the two by the stEin universe and the stAin universe, depending on the surname of the creators of the famous children's book.  The stEin universe was the world we resided in during the 1990s.  Sometime after we all stopped reading kids books, that is when we were shifted in to the stAin universe.  There may be more differences than just the surname of the Berenst_ins, in fact there almost certainly are more differences, and we just need to find them. 

I propose that the universe is a 4-dimensional complex manifold.  If you don't se habla math jargon, that means I propose the 3 space dimensions and the 1 time dimensions are actually in themselves complex, meaning they take values of the form a+ib, part "real" and part "imaginary".  Within this 4D manifold, there are sixteen hexadectants (like quadrants, but 16 of them), corresponding to whether we consider only the real or imaginary part of each of the four dimensions.  In our particular hexadectant, the three space dimensions are real, and the time dimension is imaginary.



I further propose that the stEin and the stAin universes are actually just different hexadectants of the same universe: in the stEin universe, all three spatial dimensions are real and time is imaginary; in the stAin universe, all three spatial dimensions are imaginary and time is real.  Of course, from the standpoint of stEin/stAin this won't produce any mathematically significant difference; it's the same as choosing (+++-) or (---+) convention for Minkowski space, which at the end doesn't alter predictions or measurements.  We'd never know if we did swap.

Given the weak interaction of particles between these hexadectants, stEin and stAin both evolved in time along similar lines, staying very close to one another.  Jan and Stan decided to write kids books about bears in both, for instance.  But there have also been differences; like some 16th century scribe accidentally spilled some ink on a census page, changing "Berenstein" to "Berenstain" on accident, and they just left it that way.

Somehow, we have all undergone a π/2 phase change in all 4 dimensions so that we moved to the stAin hexadectant, while our counterparts moved to our hexadectant (stEin).  They are standing around expressing their confusion about the "Berenstein Bears" and how they all remember "Berenstain Bears" on the covers growing up.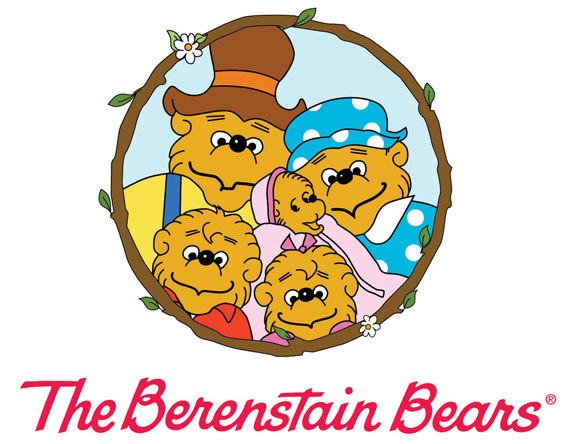 So how do YOU remember it being spelled?? Personally, I am SO confident that it WAS spelled with an E most of my life. I've always been a good speller, and I've always prided myself on my ability to remember how things are spelled. My memory for how words are spelled has always been very photographic in my mind, and looking at the Berenstain logo leaves my brain feeling very conflicted.
My daughter also watched the show occasionally when she was a baby (around 2012ish) and I remember even then that it was spelled with an E. I believe something occurred around or after that timeframe which altered the spelling that I have grown so accustomed to. The question is, what?