Huge Explosion Reported in Chinese Port City of Tianjin
Not much in the way of concrete info at the moment. Happened a few hours ago:
NSFL: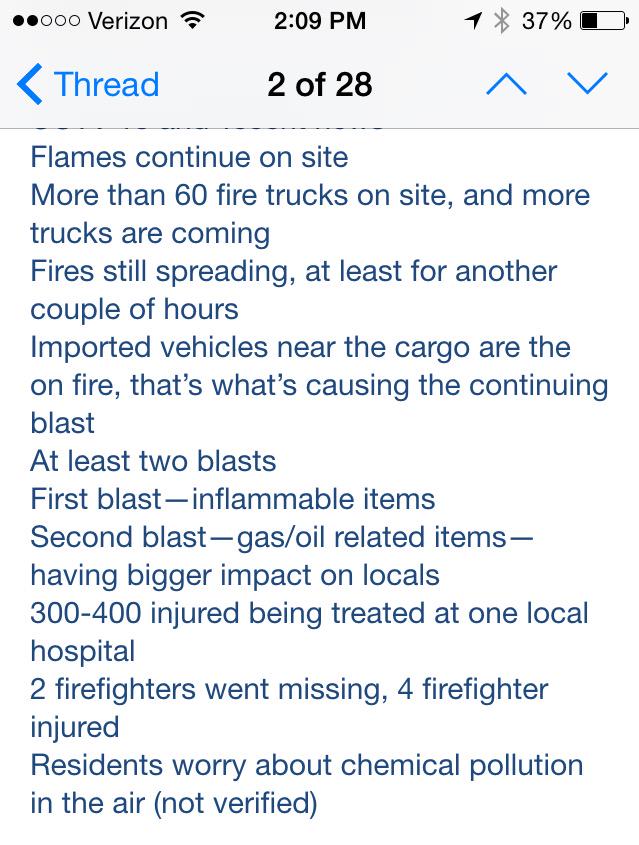 Quote:A fire and at least two massive explosions around 11:30 p.m. Tuesday local time injured hundreds and left at least seven people dead at an industrial area roughly 75 miles southeast of Beijing. Dozens of building collapsed are cars were burned out.

China's People's Daily newspaper has reported seven people dead so far from the violent explosions at the dock at the Tianjin Binhai New Development Zone. Reporters have been moved 10 kilometers (6.2 miles) from the explosion zone as the surrounding buildings are collapsing, and all residents have been evacuated.
http://www.cctv-america.com/2015/08/12/e...njin-china
http://ban.jo/News/Asia/20150812/Giant-E...a-Tianjin/
---
"We check and repress the divinity that stirs within us, to fall down and worship the divinity that is dead without us."
--  Henry David Thoreau, 1851
My Site:
www.intelligentinfinity.net