The New Testament makes it explicitly clear that God exists as a trinity in unity, and that the Christian Godhead consists of the Father, the Son and the Holy Spirit.
"For there are three that bear record in heaven, the Father, the Word, and the Holy Ghost: and these three are one"

(1 John 5:7)


"Elect according to the foreknowledge of God the Father, through sanctification of the Spirit, unto obedience and sprinkling of the blood of Jesus Christ: Grace unto you, and peace, be multiplied"

(1 Peter 1:2)


"Go ye therefore, and teach all nations, baptizing them in the name of the Father, and of the Son, and of the Holy Ghost"

(Matthew 28:19)

On these forums, the Holy Trinity is often mischaracterized and misunderstood as one of the below:
However, when we read the Scriptures, we reach the conclusion that the Godhead can be illustrated as:
It's only logical for the Holy Trinity to be reflected throughout Creation if the source/power for the creation of the physical world originated with the Trinitarian Godhead. Christ Himself said in Matthew 6:10 that 
"Thy will be done in earth, as it is in heaven"
. So, I thought I'd explore some natural phenomena demonstrating "three is one".
In chemistry, we can observe several examples of triune unity.
Atoms are the smallest constituent unit of matter. Every atom is composed of a nucleus with one or more
protons
and usually a similar number of
neutrons
, with one or more
electrons
bound to the nucleus. Collectively, these three subatomic particles form and operate as a single atom. Below is an illustration of an isotope of hydrogen known as deuterium.
Together, one proton, neutron and electron form a single stable hydrogen isotope. This can be described as a rough reflection of the Trinity.
Looking at protons and neutrons themselves, we can observe that they also consist of three elements acting in unity. They are composed of three "quarks" (elementary particles which are a fundamental constituent of matter), and the gluons that mediate the forces binding them together. Below is illustrated the quark structure of a proton:
Moving on to the three traditional states of matter, we observe a similar triune phenomenon when looking at H2O. "H2O" can exist in three different forms: a solid (known as ice), a liquid (known as water) and a gas (known as water vapor). These are three distinct states of H2O, and yet all three have the same chemical structure. No one would try to claim they are three separate "substances". They are simply three different "expressions" of the same chemical structure. Below is a diagram illustrating the three states of H2O:
Looking into biochemistry, and in particular at our genetic code, is also quite interesting. 
Quote:The genetic code is the set of rules by which information encoded within genetic material (DNA or mRNA sequences) is translated into proteins by living cells.
Below is a diagram illustrating a series of codons forming part of an mRNA molecule. A codon is a series of three nucleotides which together form a single unit of genetic code in a DNA or RNA molecule. Here, we can again observe three acting as one.
The ability of the human eye to distinguish colours is based upon the varying sensitivity of different cells in the retina to light of different wavelengths. Humans are trichromatic, meaning the retina contains three types of colour receptor cells. These three colours are blue (short-wavelength), green (medium-wavelength), and red (long-wavelength). Below is a close up photograph of a television illustrating the use of these three colours/wavelengths to have a unified, singular image sent to the human brain.
Below is an illustration of the three colours discussed in trichromatic theory: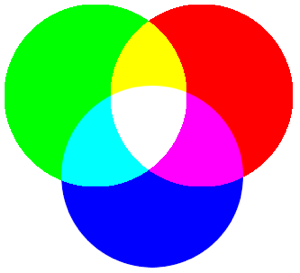 We literally "see" through triune unity.
The number of dimensions humans can perceive is three. Humans perceive the universe to have three spatial dimensions, and these three dimensions together form a singular reality.
The triangle, a single polygon with three edges and three vertices, is the most stable physical shape. For this reason, it is widely utilized in construction, engineering and design.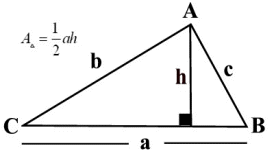 That's not to mention the symbolism of "three" throughout the New Testament:
The ministry of Jesus lasted three years

During the Agony in the Garden, Christ asked three times for the chalice to be taken from His lips.

Jesus rose from the dead on the third day after His death.

The devil tempted Jesus three times.

Peter denied Jesus three times, and affirmed his faith in Jesus three times.

The Magi gave Jesus three gifts.

Etc. etc.

AR made a post a few days ago saying "three is one and one is three" or something to that effect, and it got me thinking back to my chemistry and physics days. I hope some of you find this interesting, it certainly was for me.
---
"Then spake Jesus unto them, saying, I am the light of the world: he that followeth Me shall not walk in darkness, but shall have the light of life"
(John 8:12)