The worst of El Niño still to come.
NASA apparently keeps track of this oceanic swell that keeps us confused weather wise every 18 years. 
Floods in many places, hot/warm weather in cold climates, cold weather in warm climates.
Snow in the Sierra Nevada, and 50 degree (f) rise in temperature at the north pole.
I remember El Niño from when I was a kid. (tbh at the time I thought it was a hurricane)
But before this intense rain that came to Missouri just the day after Christmas, lasting about a week, flooding our state in many places.... I saw tons of jets over head Christmas day spewing lovely chemtrails every which way.
NASA who've lied more times than I can count, keep track of this crazy heat swell, and its effects on our planet. While I keep thinking "weather engineering".
It could be natural, but I'm thinking this less and less over the years. Earthquakes of intense magnitude in Mexico, South America, Asia and other places. (Perhaps caused by collisions at CERN, though I still don't know how that could happen. It's just odd these +5 magnitude quakes always happen following high power colissions)
Article written by CBS on El Niño and what's to come
http://www.cbsnews.com/news/the-worst-of...l-to-come/
Article about the North Pole melting right now (fox news lmao)
http://www.foxnews.com/science/2016/01/0...-pole.html
Do you think NASA/HAARP/BLUEBEAM/CERN in part have control over weather or natural disasters?
Or is it just....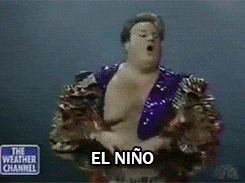 ---
I know you're coming in the night like a thief, but I've had some time alone, to hone my lying technique. I know you think that I'm someone you can trust, but I'm scared I'll get scared, and I swear I'll try to nail you back up. So do you think that we could work out a sign, so I'll know it's you and that it's over so I won't even try? I know you're coming for the people like me. We've all got wood and nails, turned out in a hate factory.