Many people in communities such as these know that the UN politically already has a goal of a one world government/ NWO political agenda. Many political leaders have not even hidden this, most notably George Bush Sr.'s speech many years ago on the NWO, in which he said this would be achieved through the UN.
However, the United Nations do not just have a political agenda. They have a spiritual one as well. What follows is some information on this for those who do not know. At first glance, this can appear to be quite deceiving, because their 'spiritual doctrines', prophets and teachers  say things that appeal to all of our desires.  Of course we want peace, love, unity, brotherhood and goodness in this world.
That being said- it IS a deception that they have hidden in plain site.
The spiritual foundation of the UN is based on the luciferian and occultic teachings of Helena  Blavatsky, Alice A. Bailey, and the secret societies and luciferian Illuminati Freemasons.
Robert Muller, the spiritual head of the UN for the last 40 years spoke and wrote extensively on this.
Starting from its inception- all leaders of the UN have also spoke and wrote extensively on this.
The UN also has a spiritual sub-division called 'World Goodwill'. It is headed by the 'Lucis Trust'. On their site, they very clearly state that their goals are to unify the world and prepare it for the coming of 'the christ'.. and that 'the christ' is lucifer. They even give us an 'esoteric explanation of lucifer' on their site, explaining that he/it/they are not evil, but good and the light. Lucifer is the name of the anti-christ associated with satan in the hebrew scriptures. It's not like they do not know this. Link:
https://www.lucistrust.org/
At the UN headquarters in NYC, there is a 'spiritual meditation room' the leaders use, where it contains some highly symbolic abstract art, and a rectangular hunk of stone. They claim this hunk of stone can represent any 'god' and pray and meditate to it. The room is shaped in a trapezoid, and also has an all seeing eye in it. It was built when the UN was established by the secretary general Dag hammerstad and remains to this day. People that have access to this room are called the 'brothers of the trapezoid'.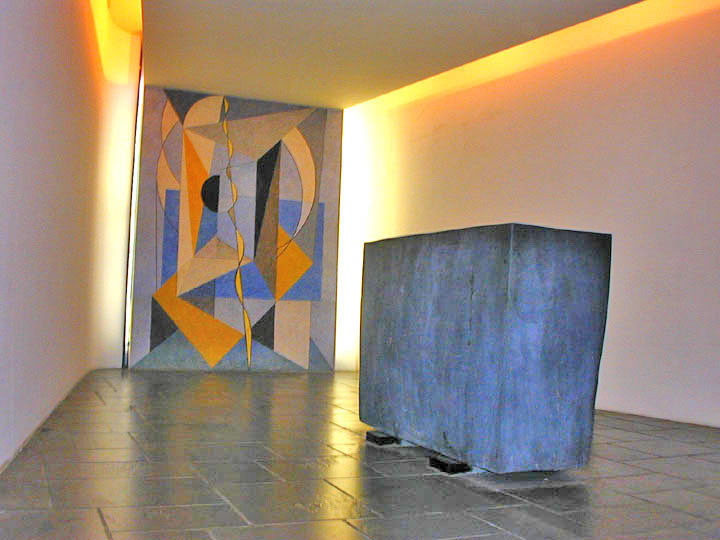 The leaders and spiritual teachers of the UN and associated with the UN claim that they are going to unify all religions into one, thus unifying all,  while destroying diversity.
There is nothing wrong with being unified in essence, but to destroy diversity must mean that all must be united in something... so what is it they are trying to accomplish and what exactly do they want us to be unified in?
... their 'christ' aka lucifer/satan. sometimes they call this (false) 'christ' the 'cosmic christ' or ' maitreya'.
Again, this can be quite deceptive, because those familiar with the actual Christ or Messiah to come, through the Bible (both the Torah/Tanakh and NT) as well as the Quran - say that Christ/the Messiah will come back on the day of judgement to unify people in good. However.. these prophecies do not say that he comes to destroy diversity.. but to unify all in God. The books also say he is coming to destroy lucifer/antichrist and satan. On the other hand, luciferians teach that all should be unified without God- and one in lucifer/the anti-christ/satan, and that there is no difference between good and evil, right or wrong, black and white etc.. and that there is no judgement. What kind of people would a system like this benefit? Certainly the evil ones, with no moral compass or judgement, good and justice will be erased. In essence, we already live in this system already.. that is why there is no justice in this world.
This new age 'religion', is not just the NWO spiritual foundation at the UN, but also being heavily promoted culturally by the elite through indoctrination (such as movies like 'Zeitgeist'- which also credits the teachings of Bailey and  Blavatsky)- the education system, and entertainment (getting highly visible these days as we know). This 'new age religion' also claims that it is inclusive of those who believe in the God of Abraham. However, this 'inclusiveness', if one were to study the root philosophers teachings and writings on these things, as well as their 'prophets'- will find that the 'inclusiveness' only comes if a believer in God RENOUNCES their faith in Him, His prophets and His Messiah for their 'christ'. Otherwise, such a person to them is indispensable unless they renounce their own beliefs for theirs.
There are many books and videos on all of this both online and offline, if anyone is interested they can research further.
I am just posting the basic facts to give an understanding of what exactly that 'web over the world' in the UN logo represents, as well as their NWO plans.. it is not just political, but spiritual. That is why as well there are many criss-crosses in the UN's practices. One day they may be talking about politics (though they are a complete political failure on many levels- war is peace? haha)- while the next day they will hold 'one world concert festivals' or 'festivals with many artists new and old promoting their agenda, 'national days' for problems in the world (they never fix)- have the pope or dalai lama over- or stand to sing Lennon's 'Imagine' since the 80's and to this day- most recently this year performed by Shakira.
Am posting a few videos on this subject. I gave a few explanations of the deceptions beforehand, as some explanations are not fully clear in vids .. the info is out there though if you search more. Also, some videos have a Christian slant to them- but in no way does this mean that this NWO 'religion' of satan/antichrist/lucifer just attacks or targets Christians, or for that matter even just the Abrahamic faiths- it attacks and targets ALL who do not want to change their belief system to having their satanic based false religion or belief in the center of yours, even if you are an atheist. This is and will affect us all. They have their tentacles in all religions (including such as Buddhism, as I said, not just Abrahamic) and non religions.
below is a full video of a on the subject- by Walter Veith- speaking about the UN and the occult agenda if you would like to watch it- over an hour long, but highly informative- covers UN history, secret societies, nations and individual politicians involvement, religious institutions and leaders involved, education, symbology etc)