So I find saying either "Merry Christmas" or "Happy Holidays" of little to no importance.
I read the other day a bunch of Christians are upset that Starbucks cups aren't decorated this year. (Honestly what does a snowflake have to do with Christmas, they have a point) and that they want to hear "Merry Christmas" so badly, that they spent their money at this tyrant of a coffee shop, and had the baristas write their names on the cups as "Merry Christmas" in order to hear it.
It seems to me a dumbass idea to give them your money if you're unhappy with the company policy.
But even more shocking I found out, is the cups
are
decorated, at least some of them... With a inverted pentagram, hidden beneath the bottom rim of the cups.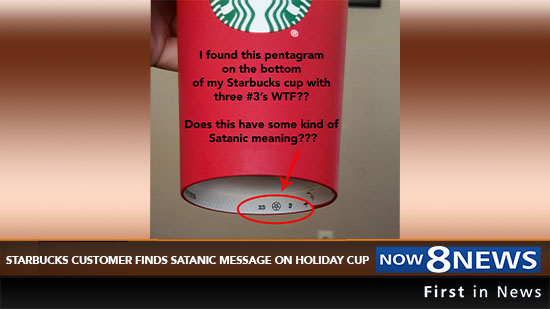 http://now8news.com/starbucks-removes-ch...ic-symbol/
So, I'm a little floored.
Today at the mall I argued with my partner how though they can no longer drink coffee due to neurological problems, that Starbucks is nasty anyway...
Also, the In-And-Out Burger chain had a secret message of their own a while back...
---
The most high exalting and I ain't halting 'til I die of exhaustion and inhale my exhaust fumes.