Sad news people,
Total number of dead and injured, unknown.
Afghanistan, Pakistan and parts of India affected.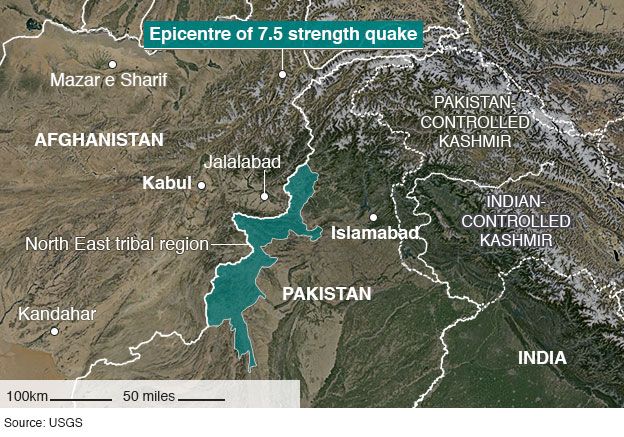 Analysis by Jonathan Webb, BBC News science reporter
Even at its revised magnitude of 7.5, this was a powerful tremor. Around the world only about 20 quakes each year, on average, measure greater than 7.0.
But its focus was deep - much further below the surface than the 7.8 quake which brought widespread destruction to eastern Nepal in April. That event was only 8km deep and was followed in early May by an aftershock with magnitude 7.3.
Similarly, the devastating 2005 Kashmir earthquake was magnitude 7.6 and just 26km deep. Today's quake, at a depth of more than 200km, appears to have caused widespread but less severe ground shaking.
People in the Indian capital Delhi ran into the streets after the tremor struck, and schools and offices were evacuated. The Delhi metro was also briefly halted.
Indian Prime Minister Narendra Modi tweeted that he had ordered an urgent assessment of any damage.
"We stand ready for assistance where required, including Afghanistan and Pakistan," he said.
Catherine Bhatti, from Durham in the UK, was visiting relatives in Sarghoda, Pakistan, when the quake struck.
"It came out of the blue, everything started to move slightly then it became stronger. We made our way downstairs and gathered outside on the lawn," she told the BBC.
"My in-laws, who have lived here all their lives, say they have never experienced anything like this before."
So far an estimated 200 dead,
inna lillahi wa'inna alaihi raji'oon - From Allah we came, and unto Allah we return.
Scimi
---
Out beyond ideas
of wrong-doing,



and right-doing,





there is a field...





...I'll meet you there.

€